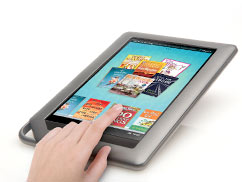 Barnes & Noble just concluded their special event where they unveiled the long rumored Color Nook. The device is similar to the existing Nook e-reader (which is powered by Android), but has a large, color touchscreen.
The Color Nook is essentially an Android tablet, but one that runs a heavily customized interface that is geared toward reading. It features a 7" high-resolution display that B&N says is specialized to be as anti-glare as possible while still being a touchscreen. They also say it is fully readable outdoors.
Barnes and Nobile is clear that the Color Nook is an e-reader device first, but they are also touting its extra features, such as full web browsing, music streaming, social sharing, etc. It also offers users the ability to subscribe (for a cost, of course) to hundreds of magazines and newspapers which appear in full color with video support.
The Color Nook is available for pre-order now for $249 and will be available on November 19. Check out all the details and pictures at the
official Color Nook page of the Barnes & Nobile website
.
I can't wait to check this device out in person to see how it performs and how fast it is. Tablets like this tend to be on the sluggish side due to cost-cutting reasons, and users are considerably less forgiving of lag on a full-color tablet than an e-ink reader. But if it performs well, this could be a huge winner, especially at that price. I also like the idea of magazine and newspaper subscribing, though the prices will probably be laughably high just like they are on the iPad. So...lots of unanswered questions, but it sure looks promising.
---
Depending on the actual functionality and usability of this product as a tablet, this could be very popular. I love the idea of e-readers, but it's so hard to justify a single purpose device these days. I really like that this combines the two, and at a great price. The key is if it performs both functions, tablet and e-reader, as effectively as what's already out there. If it can, then this is totally the way to go, in my opinion.